Reputation Institute's Global RepTack 100 uncovers the world's most reputable companies on innovation, governance, citizenship and more. Having conducted more than 61,000 consumer interviews, this study places heavy emphasis on trustworthiness from the consumer's perspective. We're honoured to have made the top of this list for the second time!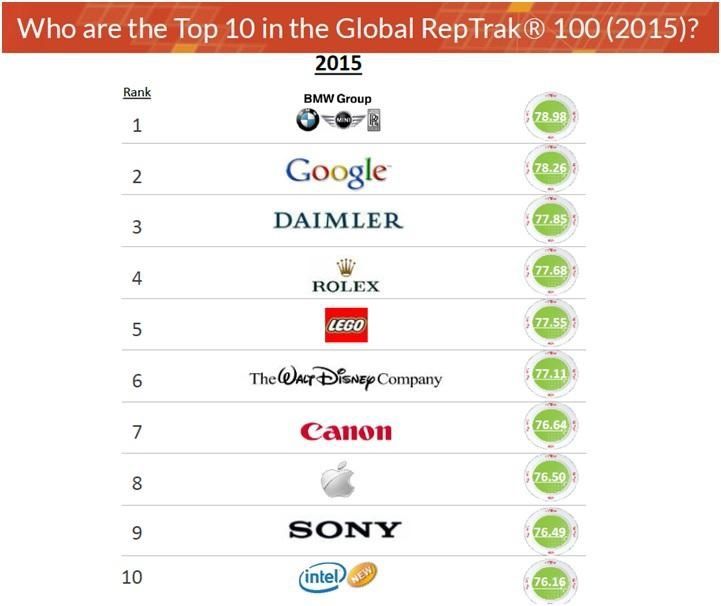 BMW Group prides itself on its ability to deliver custom-tailored premium automobiles while maintaining a high level of customer service. As a learning organization, we constantly adapt to new situations and attempt to orient ourselves rapidly to new conditions. One example of this is our "Customer-oriented sales and production process"- otherwise known as COSP.
COSP gives customers new dimensions of service: simple, online ordering processes, immediate, binding order confirmation and delivery date, flexibility when changes are desired, information on order status, and on-time delivery.


Bill McAndrews, Vice President at BMW Group Corporate Communications was asked: "What would you say are the specific initiatives – internal and external – that you have been doing to make people understand who you are as a company?"


He answered: "The BMW Group as a whole is an innovation driver. That's the basis for everything we do. What's also essential is to communicate to various stakeholders what our company is doing as a good corporate citizen. Also, our job as communicators is to create platforms or channels which promote contact not only with our products, but also with experts within the company. In short, business is people. And even though we have the great tools of internet and social media, face-to-face interaction is an integral component in maintaining a strong corporate reputation."


BMW Markham values each and every one of our customers and we're so happy that it shows in our face-to-face interactions. Thank you for making us the world's most reputable company! We look forward to continuing this win-win relationship with our customers for many years to come.


Click here to see the difference it makes to shop at BMW Markham.